First, a new word: "esports."
Makes you think that playing video games is a legitimate sport, something like poker, which is featured on ESPN and in the sports sections of most newspapers. So, mom and dad, maybe it's ok, right?
Dozens of small universities now promote their own varsity esports programs, offering scholarships worth thousands of dollars to talented young gamers. There's even a governing body: the National Association of Collegiate Esports. One small university reported that esports is their only sports program. Maybe Harvard, Stanford and Duke are next?
Many parents are even hiring gaming tutors to improve their kids' chances of winning. After all, losing can't be great for self-esteem. And hey, maybe the kid will snag one of those scholarships.
The publishers of video games are sponsoring tournaments with big cash prizes.
It's big-time. Some gamers make over $100,000 in prize money from these competitions.
This new aspect of our culture is coming at you at high-speed. Virtual reality gaming competition is next. Maybe university esports programs will become regular features on ESPN, like poker.
In August, 2018, David Katz, a champion gamer, was eliminated in a Madden NFL gaming tournament in Jacksonville, FL. Frustrated by his defeat, he got a gun and started blasting away, killing two gamers and wounding 10 others. One can only imagine what was going on in his brain when he then turned the gun on himself, eliminating the need for an expensive trial and incarceration. According to his mother, he was so addicted to gaming as a teen that he would refuse to go to school or bathe. "When I took his gaming equipment controllers away so he couldn't play at 3 or 4 in the morning, I'd get up and find that he was just walking around the house in circles."
Dr. Victoria Dunckley's book, Reset Your Child's Brain (2015), sounded the alarm about the horrible effects of excessive exposure to games. I've added my own two cents from time to time. Fact: a kid can't hope to win an esports scholarship or compete in a sponsored gaming tournament without being an addicted gamer. It's simply not possible. And addicted gamers have so much cortisol accumulation in their brains that brain cells are dying. Hyper-aroused teens are hard to control, and they neglect the normal, healthy aspects of growing up, such as sleep, physical fitness, friendships, learning, time spent in nature, and competing in real sports.
Parents, I appreciate how persuasive our culture can be, especially if the next new thing is massively promoted and takes you by surprise. But before you try to be a great mom or dad by gifting your child with a new gaming controller, or worse, hiring a gaming coach, at least read my blog post about the dangers of gaming. And if that gets your attention, read Dr. Dunckley's book. Video games are designed to be addictive, and it's a slippery slope. Few kids have the mental discipline to use them with moderation.
More truth-telling about gaming addiction and excessive screen time.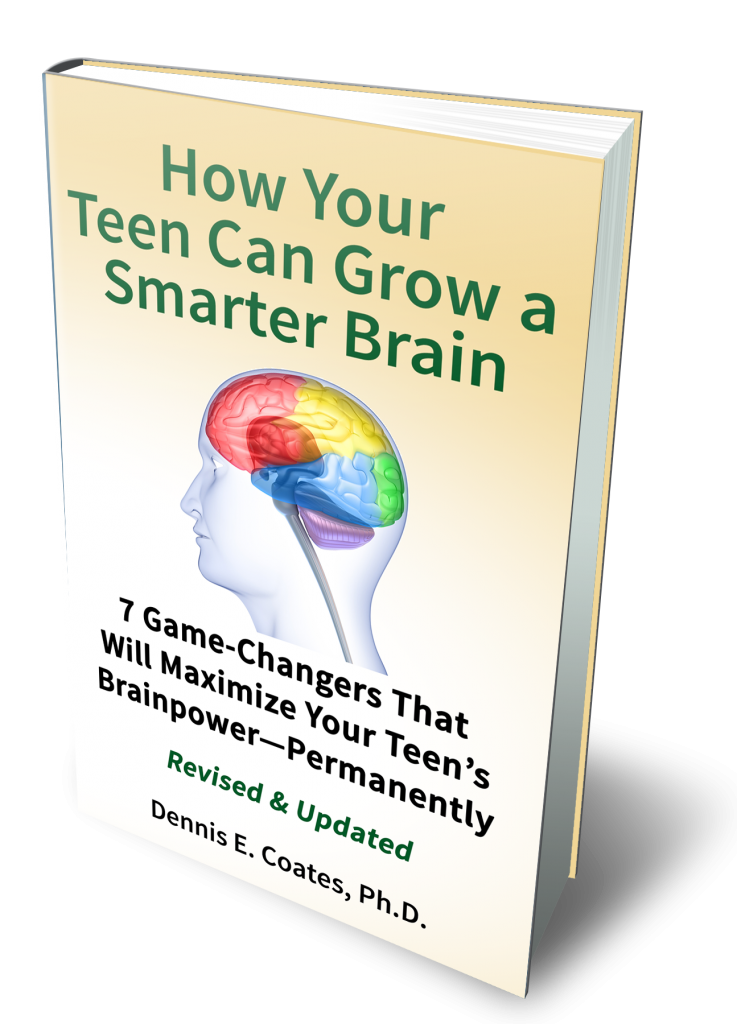 The research behind this issue is revealed in Chapter 6 of my book, How Your Teen Can Grow a Smarter Brain.
You can grow the bond with your child through better listening. Download the FREE ebook, Listening to Understand.